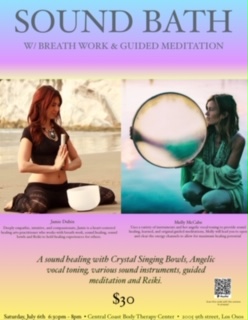 Sound Bath with Breath Work & Guided Meditation :
Saturday, July 6th. 6:30-8 pm. $30.
Register with paypal to magimoonmusic@gmail.com or link here: https://centralcoastbodytherapy.massagetherapy.com/files/sound%20bath.pdf
An amazing sound healing experience with Crystal Singing Bowls, Angelic vocal toning, various sound instruments, guided meditation and Reiki:
Jamie Dubin will be guiding a vibrational sound healing journey with her Crystal Singing Bowls and Pranayama Breathwork. Hands-on Reiki will be offered to align and ground you in your experience. Molly McCabe will share her ethereal vocals along with a small guided visual meditation.
YOGA RETREAT WITH CYNTHIA IN BRITTANY, FRANCE - SUMMER 2019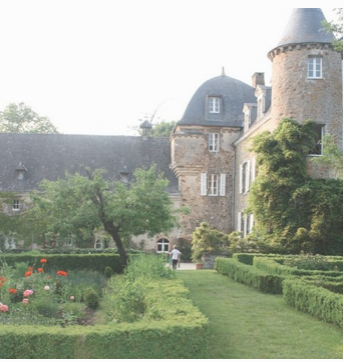 Come to a Yoga Retreat in beautiful, rural Brittany, France at a 15th century Chateau! The Chateau is rustic, historical, elegant and charming. Her gardens are gorgeous and organic, her pool warm and inviting. The grounds are both cultivated and wild, with a nature walk around the property where you may see wild Rhododendrons, deer and Bluebells alongside a running brook! The Yoga Retreat includes 2 yoga classes daily, fresh, organic meals w/ gluten free option, a trip mid-week to Mont-St-Michel, essential oil crafting, 2 massages on-site, a guided tour of the town of Vitre and the opportunity to shop at a locally owned market, and the delight of meeting like-minded people to share stories with for a full yet relaxing and restorative week.
Dates: June 22nd-June 29th, 2019
$1800 before December 1st, 2018
$2000 after December 1st, 2018
Prices do not include airfare, but include all meals, lodging, yoga, massages and side trips!